The 'Out of the Box' state tells you if the aircraft as unpacked and installed actually is able to trap an arrestor wire and or perform a catapult launch, as even some aircraft with hooks do not seem to work without some amendment to their aircraft 'config' file such as 'adding hook/launch bar details', not hard to do, just a little more work. If you picked one of those for your first attempt then you may be disappointed, so choose on that works right 'Out of the Box'.
First thanks to Mr Kazunori Ito who had to give up his work for the community for which he provided a lot of fun from way back when i first found sims - Thank you .

FAIREY GANNET
-

Out of the Box this 'TRAPS' ARRESTOR WIRE and CATAPULT LAUNCHES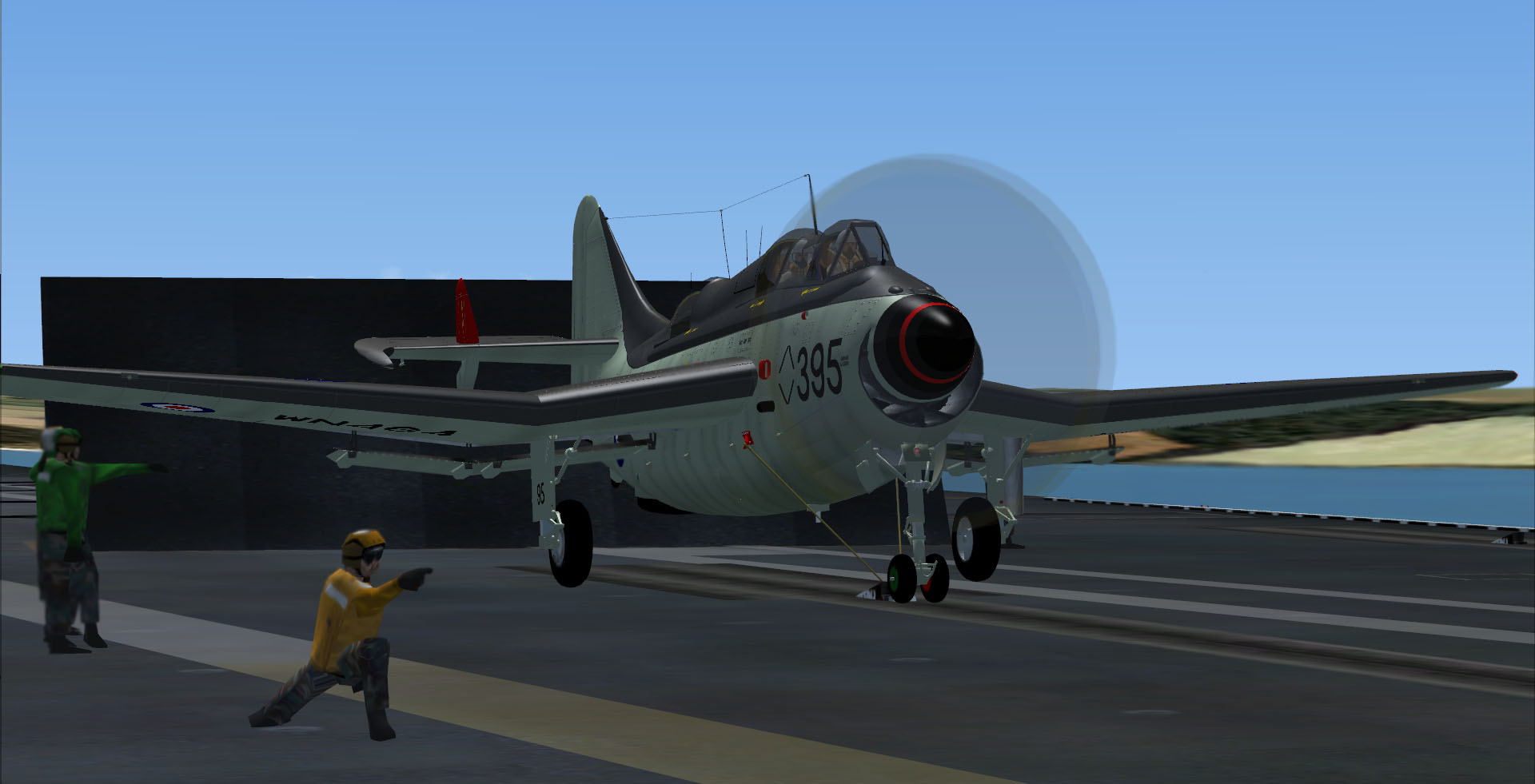 Anti Submarine gannet - The twin turbo-props counter rotate - one engine can be stopped in flight, the bomb bay opens and the 'dustbin' radome lowers too - must have taken months to make
Download from another great website called
BritSim
the excellent Gannet made by that expert of FSX aircraft manufacturer Robert Richardson (robcarrich)
in one of its operating roles such as 'Anti-Submarine - AS', 'Airborne Early Warning - AEW', 'Carrier On board Delivery - COD' or even 'The Admiral's Barge', (OMG did he really have a personal airplane to visit carriers?).
With all the flaps down the Gannet will stall at about 85 kts - unbelievable for something that weighs around 9 tonnes, will climb at more than 2,000 ftp to 25,000 feet at around 300 kts, still that's what you can do with about 3,800 horse power. It has such an elegant wing fold too, try it with this key combination... <CTRL+SHIFT+K>

Note, when I added the 'revised flight characteristics' file by another author the sound file must have got changed from the nice 'Double Mamba Twin Turbine' gearbox whine typical of this type, to non realistic piston engine noise. Haa maybe a bit pickie as I have heard the real thing.

Fairey_Gannet_AS6.zip 16.9 MB by
Robert Richardson (robcarrich)

May 2011 available free at::-
http://www.britsim.com/
See the real Gannet in action here:-
http://www.youtube.com/watch?v=NhZRVc9SS0M


BRITISH AEROSPACE (Boeing manufactured under licence as the)
T-45 GOSHAWK -

Out of the Box this 'TRAPS' ARRESTOR WIRE and CATAPULT LAUNCHES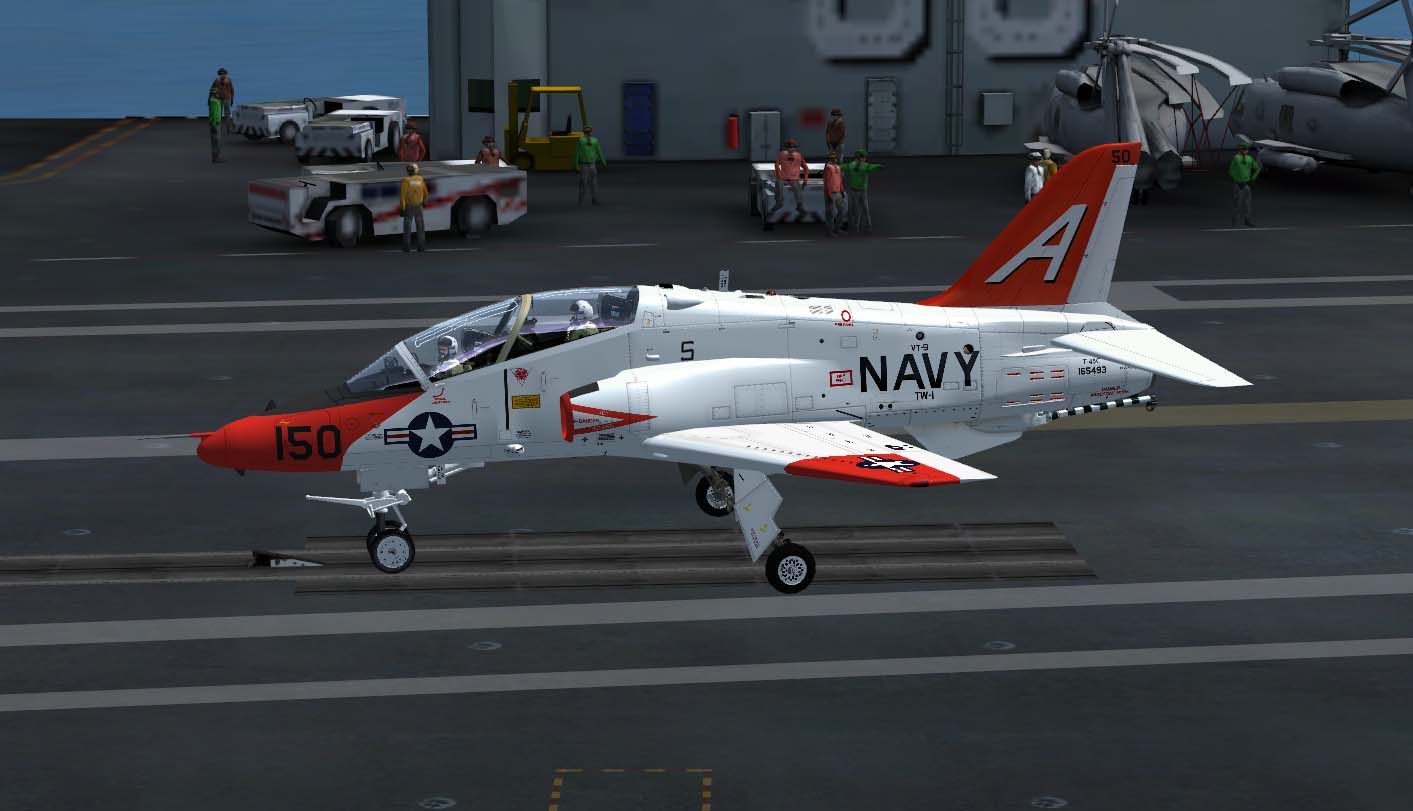 The US Navy T-45 Goshawk is the British Hawk trainer variant purchased by the USA, hardened for carrier landing and training. It is a good free airplane made by
David Brice & David Friswell
available at all good FSX sites. A good starting choice
variant is

Dino Catanneo's
t45cv201.zip
- 111.14 MB
http://simviation.com/1/search?submit=1&keywords=Dino+Cattaneo&x=8&y=2
available free from all the main FSX websites
DeHAVILAND SEA VENOM -

Out of the Box this 'TRAPS' ARRESTOR WIRE and CATAPULT LAUNCHES
The British Navy's Sea Venom, first of their carrierborne aircraft to carry a guided missile, the Firestreak and the last single engined carrierbone jet strike fighter. Another interesting fact about this jet fighter all weather interceptor is that the fuselage was made of WOOD.. yes plywood actually.

DeHavilland+Sea+Venom+FAW+22+of+the+Royal+Navy+FAA.rar 8.62 MB
by Robert Richardson (robcarrich)

Oct 2009 available free at::-
http://www.britsim.com/
See the real Sea Venom in action here working for the Australian Navy (They prolly did not know we were making them out of plywood when they signed for them. Remember though this aircraft maker also made the WW2 wooden Mosquito, so they knew what they were doing and it obviously worked. What an interesting airplane, (it makes you want to make one in your garage doesn't it) Compare the power of this and the Goshawk:-
http://www.youtube.com/watch?v=SBhUzKLbuDc
FAIREY FIREFLY Mk 5 & 6 (made for FS2002 mods for FSX) -

Out of the Box this 'TRAPS' ARRESTOR WIRE does NOT CATAPULT LAUNCH without work
The Fairey Firefly on Ark Royal. The Firefly first flew in 1941, it was still in service during the Korean War when I have pictures in my family album of it making attacks against North Korean ports and shipping. One Flying from HMS Ocean even claimed a MIG kill. The final Firefly flight was in December 1961 as a target drone.
This model needed the addition of a few lines in the 'model.cfg' file before it would catapult and the deck plates raise for that. Haaa.. owh yes the prop is 3 bladed, it should be 4, ... err like mine, another little mod I did too. Ask me if you want to know how..

firefly_mk5_6.RAR 14.7 MB By A.F.Scrub

December 2009 available free from all the main FSX websites